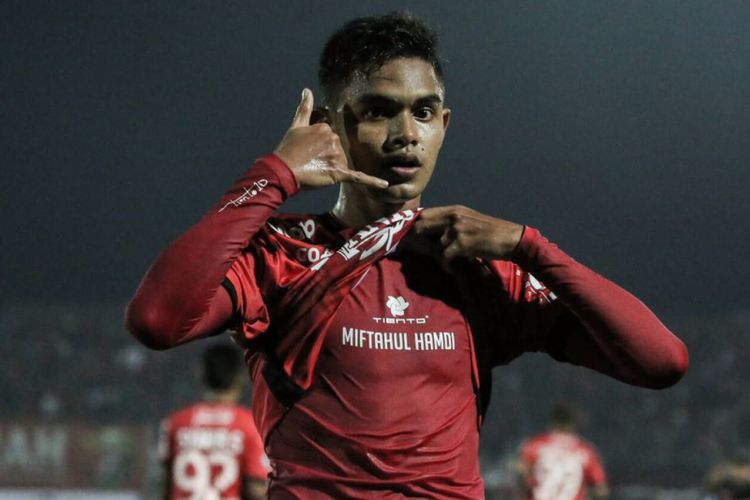 Similarity Selebrasi Bali Player with Messi
Miftahul Hamdi scored one goal and created one assists as Bali United triumphed over PSM Makassar with a score of 3-0 in a League 1 match at Captain I Wayan Dipta Stadium, Gianyar on Sunday (07/23/2017).
The incision seemed to be proving the quality of Miftahul after not entering the squad for U-22 Indonesia U-23 Asian Cup Qualification 2018 in Bangkok, Thailand, last week.
Hamdi was lowered in the second half. The multipositionist signed in to replace the Bali United marquee player, Nick van der Velden, in the 47th minute.
The entry of Hamdi changed the rhythm of the game Bali United. The Acehnese player also donated an assist for his second goal and sealed a tripoin with his header.
After scoring a goal, Miftahul as usual performs prostration of gratitude. He then performs a gesture like calling by staring into the tribune, while his left hand lifts his uniform so that the name appears on his chest.
What is the meaning of the celebration?
"I am grateful that yesterday was directly called by Bali United management when I was not in the Garuda squad, that is my celebration meaning," Miftahul told BolaSport.com on Monday (7/24/2017).
The celebration by Miftahul was not unfamiliar. In March 2017, Barcelona star Lionel Messi celebrates as people call in a 5-0 win over Celta Vigo.
Newer celebration Messi then led to speculation. Interpreted media origin Barcelona, ​​Sport, the star could have tried to give a non-verbal message for club management.
"The most controversial and perhaps worrisome notion may be the message, 'When did you contact me for a contract renewal?' Wrote Sport.
Asked if Miftahul imitated Messi's celebration, the player replied, "Well do not know about that."
Miftahul hopes to repeat the glorious appearance in the next game. That way, he hopes to penetrate the 2017 SEA Games squad.
"Yes, I am now more motivated, although I was selected in the U-23 Asian Cup Qualification, hopefully I can break the SEA Games squad," Hamdi said.